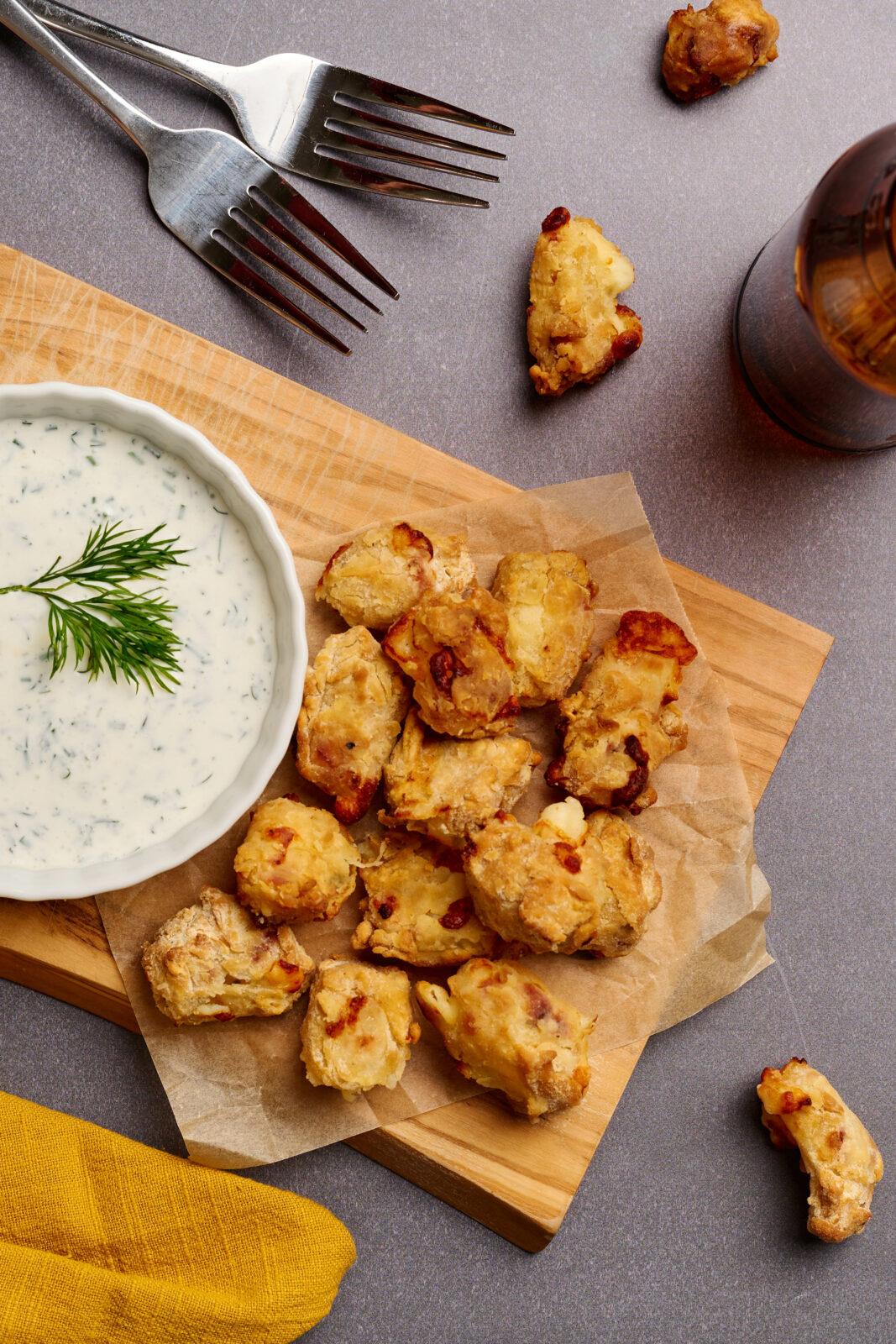 Ingredients
For the curds:
1¾ cups flour, divided
2 tablespoons cornstarch
½ teaspoon baking soda
6 ounces beer of choice
1 egg, beaten
1 teaspoon salt
½ teaspoon black pepper
1 pound pepper jack cheese curds
Cooking spray
For the dipping sauce:
1 cup sour cream
¼ cup Jilbert Whole Milk
1 teaspoon garlic salt
¼ cup parsley, minced
¼ cup chives, minced
¼ cup dill, minced
How to
For the curds:
Cover 1 large baking sheet with parchment paper, and another with paper towels. Set aside. In a large bowl, combine 1 cup of the flour, cornstarch and baking soda. Add beer and egg, and whisk until smooth. Cover and refrigerate for at least 20 minutes.
In a shallow dish, combine remaining flour, salt and pepper. Pat the curds dry with a paper towel. Working with a small handful of curds at a time, dip into the batter, letting excess batter drip off before coating with seasoned flour. Set coated curds on parchment-lined baking sheet.
Heat air fryer to 390 F. Generously spritz curds with cooking spray and place an even layer in the air fryer basket. Cook 5–7 minutes before flipping, spritzing with more cooking spray and cooking an additional 2–3 minutes, or until crisp and cheese begins to melt.
Place finished curds on paper towel-lined baking sheet and air fry remaining curds. Serve immediately with dipping sauce.
For the dipping sauce:
Combine all ingredients in a small mixing bowl. Cover and refrigerate at least 2 hours before serving, preferably overnight.
Recipe and image provided by Half & Half magazine.